Hey girls,
I have recently been really getting into nail polish! So i was super excited when i stumbled upon the new OPI "The Muppets" collection and decided to pick up a few colours. The whole collection is gorgeous and especially the glitters are spectacular but a single OPI nail polish in Australia is $20 and i didn't want to break the bank so i only picked up three, each with a reason behind why i chose them!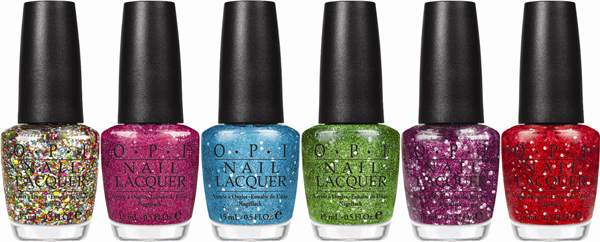 The first colour that caught my eye was "Rainbow Connection" and from first sight i instantly knew i had to have it. I had however seen this nail polish prior to really seeing it because when i was getting my nails done a week or so ago i noticed this one on the shelf and died at it's beauty but was devestated when there was no label on the bottom and noone in the salon knew what it's name was. I later saw this colour on a couple of blogs so i found out the name and went shopping the same day for the single purpose of picking up this polish which i never thought i would ever find again!
So there isn't really one significant colour you can refer to this polish as apart from rainbow! There is a mixture of silver, green, pink, gold, red and blue glitter in clear nail polish.
The glitter goes on very sparse so to achieve a super packed on glittery look you need at least 3 coats and i recommend a base coat of black or white so the glitter shows up well.
I couldn't contain my happiness when i realised that "Rainbow Connection" perfectly matches a dress i love and own. If you read my
previous post
about this dress then you would know i have it in both cream and black. So I would probably wear a black or white base under the glitter polish depending on what shade of the dress i was wearing so it matched my outfit exactly.
The next two polishes i picked up from "The Muppets" collection were festive purchases in preperation for Christmas!
"Gettin' Miss Piggy With It" is a clear polish with vibrant red glitter specks and particles with some silver specks mixed in also.
I don't usually go for greens but i had to stop myself from purchasing the blue one because i already have way too many blues in my collection. The green is a great change of pace and reminds me so much of Kermit!
"Fresh Frog Of Bel Air" is a clear polish with vibrant green glitter specks and particles with some silver specks mixed in also.
Both "Gettin' Miss Piggy With It" and "Fresh Frog Of Bel Air" are extremley versatile and can be styled in many festive ways. You could put silver polish underneath them both if you didn't want your green and red to be too contrasting and kind of still match. You could put red and green nail polish underneath the glitter to really enhance the colours. You could also use either black or white depending on what your wearing.
Please tell me if you pick up anything from this collection and what you think about it!